Cobourg Legion
Welcome to our Monthly Missile!
Please check at the bottom of the page for previous releases.
Ladies Auxiliary August 2022 Report
Dear Comrades,
The Ladies Auxiliary reports for July and August will be lean due to summer holidays for clients and for us. There are a few bookings during these months and members are handling the events ie Jack & Jill, Celebration of Life and along with the LA hosting Chicken dinners.
The Chicken dinner held July 14th had a good turn out and anticipate the one on July 28th will be too!
Our Chicken dinners for August will be held on August 11 & 25th at 5PM. For further details please check out the poster inside the Legion doors or on the Legion Website
Tickets are available from Aldene Cooper (905-376-3316),  Judy Elliott (905-269-6057) or at the bar. E-Transfers to cooptwo@sympatio.ca
The LA Cheese fundraiser campaign was a success.  Thank you for supporting the organization and I hope you have enjoyed them and will support this fundraiser in future campaigns, most likely fall.
August 27th will be the Grand Opening Celebration and details will be forthcoming as they become known on the cobourglegion.ca website.
I encourage your participation in sports, helping with fundraising duties, kitchen work, funerals & encourage your friends & family to join our team.
Best wishes for a grand summer, stay healthy, safe and hope to see you at our September General Meeting, September 6 @ 6:30PM.
Yours in Comradeship,
Ladies Auxiliary Br # 133
President-Normalee Teskey
Sports Report
Hey Comrades
In July there was a zone sports meeting held and we have good news, Legion sports will be starting up again in November. Please stay tuned and keep an eye out for signup sheets if you would like to take part in one of the many sports.
I also had the pleasure of working our first wedding in the new banquet hall. Here are a few pictures from that night.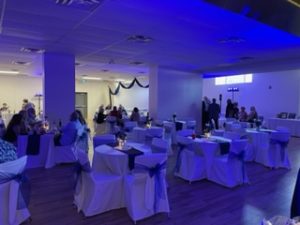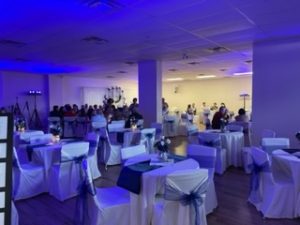 Jennifer Robison
1st Vice President
COME ONE COME ALL
Hi comrades all. Padre Art here but not in the Padre role. The grand opening is fast approaching . August 27th. is the date you need to circled on your calendar. This will be a historic day for Branch 133. How often do you witness a new building being officially opened?
I have been privileged to work with a great team in planning this event. The team consists of Jen Robison, Jaye Bevan, Judy Ellitt, Rod Ingersol and myself . Yollande MacKinnon serves as secretary and Bill Poelstra sits in as P R O. We have had frequent planning sessions since mid April working to make the day a wonderful event. There will be Ceremony, Music, Food. It's going to be HUGE. August 27th at the Branch, 1100 hrs. COME ONE COME ALL.
Padre Art.